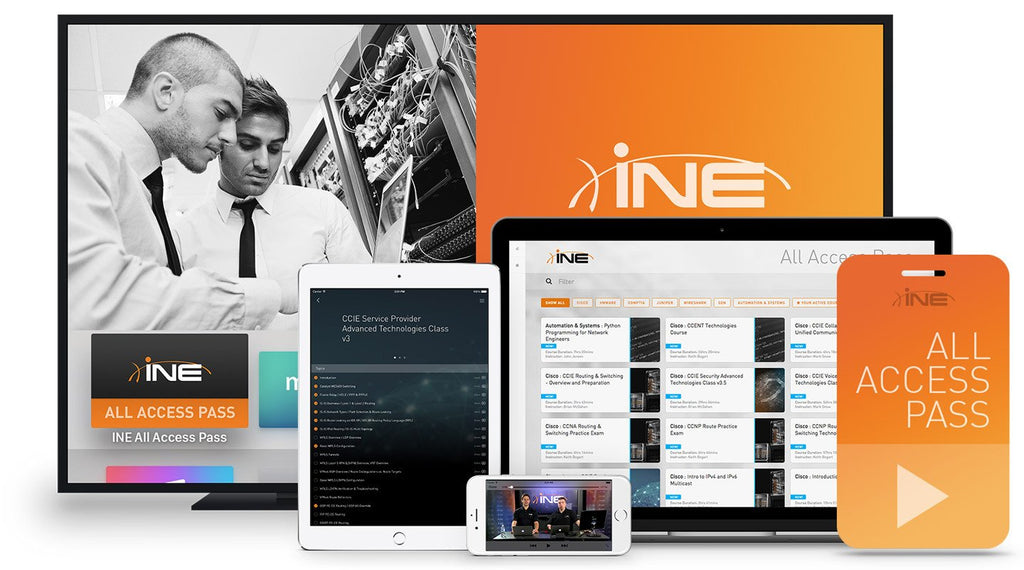 INE Releases New Monthly All Access Pass Plan for $99
INE (Internetwork Expert), the premier provider of technical training for the IT industry, has released a new monthly payment option for their All Access Pass subscription.
Cary, NC - INE, "The Experts at Making You an Expert", announces the release of the monthly "All Access Pass", a subscription plan which offers technology professionals unlimited access to the company's entire content library. In addition to their yearly subscription plan, INE now offers a monthly payment option. With this new payment option, IT professionals can enjoy the same great content that INE is known for, with a more accessible price specifically designed for individual subscribers.
The All Access Pass contains all the tools subscribers need to stay at the cutting edge of IT, including:
Unlimited streaming of 13,000+ training videos​ in the IT and networking industry's top technologies such as Cisco®, Amazon Web Services (AWS), CompTIA, Google, Java, and more.
Unlimited access to the industry's most comprehensive workbooks​ which act as hands-on training guides. Workbooks include extensive topology examples and real-world scenarios.
In-depth training from the top experts in the industry​, creating content with the student's success in mind.
Advanced progress tracking​ that helps students know where they are within every course.
Access to free online classes and monthly webinars​ where students can engage and ask their instructor questions.
Topics covered within the All Access Pass focus on networking, devops, security, development, general IT, and data science. The All Access Pass can be accessed on any Windows, Mac, or Linux computer - as well as on iOS and Android phones and tablets through the INE mobile app.
INE's All Access Plan is competitively priced at $99 per month or $999 per year - with subscribers enjoying two months free under the yearly plan. Subscribers may cancel at any time, with no cancelation fee.
CEO Richard McLain celebrates the new release, noting that, "in continuing with our tradition of providing the highest quality and most innovative IT training in the industry, we are proud to launch our one-month All Access Pass subscription. This plan allows for even more flexibility for our users while still allowing them to enjoy thousands of hours of educational content taught by the industry's most esteemed professionals."
About INE
INE is the premier provider of Technical Training for the IT industry. INE is revolutionizing the digital learning industry through the implementation of adaptive technologies and a proven method of hands on training experiences. INE's portfolio of trainings is built for levels of technical learning specializing in advanced networking technologies, next generation security and infrastructure programming and development.
INE's mission is to be your trusted partner in reaching your professional goals. INE has cultivated innovative content and teaching methods, delivered through cutting edge technology and disseminated by the most esteemed instructors in the world. Over the past 14 years, INE has helped tens of thousands of IT professionals achieve their goals and countless Fortune 500 companies build a world class technical organization fully prepared for tomorrow's challenges.
Visit ​
ine.com​
for more information or contact an INE Training Specialist by phone at +1-877-224-8987 or +1-775-826-4344 if calling from outside the US.
---