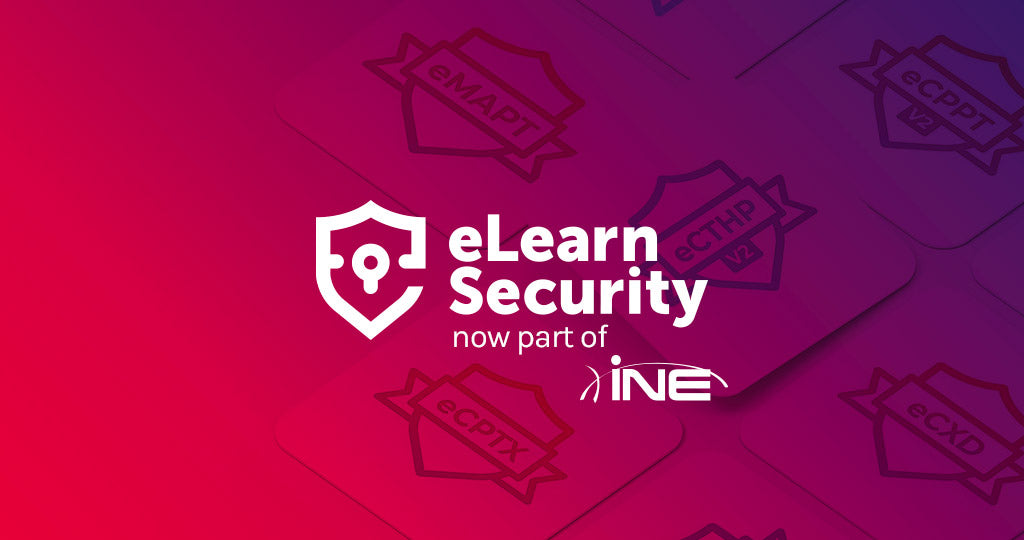 INE Expands Cybersecurity Content with eLearnSecurity
Cary, NC - INE, the premier leader in IT training, has acquired eLearnSecurity, an internationally trusted provider of cybersecurity education. 
For 16 years, INE has prepared today's IT professionals for tomorrow's challenges. With a content library of over 15,000 videos covering topics such as Cisco Networking, Microsoft Azure, Amazon Web Services, and more, INE continues to provide expert IT training individuals and companies alike can count on. Students benefit from quality content, clear instruction, and the technology they need to reach their goals.
eLearnSecurity's world class training serves IT professionals and corporations of all sizes. With new, innovative technology, eLearnSecurity has changed the online learning experience, granting students the optimal environment for practicing their skills and gaining insights. With knowledge, experience, and dedication, eLearnSecurity is an ideal fit for INE.  
Users of eLearnSecurity will continue to receive the same service and content they've come to rely on, with no interruption to their current training. INE, with the addition of eLearnSecurity content, will strengthen their cybersecurity portfolio. 
Jointly, both companies offer certifications that allow professionals to advance their careers and demonstrate their expertise. INE offers extensive courses and workbooks to assist users in earning their certifications through Cisco, Microsoft, and other leading technologies. With newly designed Learning Paths, students can work their way through the specific content they need to improve their skills and ace their exams. 
 eLearnSecurity will maintain their practical certification programs, providing training for Penetration Testers, Network Defense Professionals, Reverse Engineers, and more. Users can earn eLearnSecurity certifications to establish themselves as IT Security Professionals employers can trust.
Cybersecurity remains one of the most crucial technology fields, as cybercrimes continue to cost companies around the world trillions of dollars in damages. As cybercrimes increase, so will the number of unfilled cybersecurity jobs. By 2021, that number will triple, reaching 3.5 million vacancies. 
The demand for qualified cybersecurity professionals is a gap INE and eLearnSecurity are determined to fill. With in-depth training based on real-world situations, students will be ready to meet the growing needs of cybersecurity. INE, with significant contributions from eLearnSecurity, offers students the most up-to-date technology and information. Armed with the best tools in the field, those trained by INE and eLearnSecurity experts will be vital assets to the cybersecurity community. 
INE's CEO Richard McLain is looking forward to student's accomplishments as they utilize content from both platforms. "We want to ensure that our users have access to the best education and information necessary to do great work and establish themselves as leaders in the industry. eLearnSecurity is a trusted source of high-quality training in the cybersecurity field, which is in desperate need of qualified professionals. We're excited to team up with eLearnSecurity to make a difference in the critical field of cybersecurity."
"We're proud of the IT Security experts we're sending to the frontlines of cyberattacks and threats. They're driven and focused, utilizing up to date information and always staying one step ahead of a potential breach," says eLearnSecurity's Davide Carmeci. "We believe that strong cybersecurity depends on the people who deploy, manage, and design our defenses. We want to give them the leg up they need to succeed. Partnering with INE allows us to grant our users additional advantages that will strengthen their abilities and, by extension, benefit all of us."
INE is proud to continue offering world class training in one of the most pressing skills needed in the technology field today. Alongside eLearnSecurity, INE will remain a trusted partner to anyone seeking to improve their work and abilities, for the betterment of their careers and their companies. 
For more information, visit ine.com or contact a Training Specialist at +1-877-224-8987. 
---