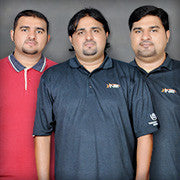 The Munir Brothers
These three brothers are all in the same profession and all came to INE for their training. We asked Muhammad Zubair Munir to tell us more about himself and his brothers, their careers, and their INE training.
"Our father began using a computer in 1990, so our interest was developed at an early stage of our lives, and we all chose our academic education to align with Computer Sciences," said Muhammad Zubair Munir.
His elder brothers, Muhammad Tayyab Munir and Muhammad Tahir Munir, began their careers with Microsoft networking. It was around 2004 that Muhammad Tahir learned about Cisco, at which time a friend advised him to venture into this particular field of networking. Muhammad Tahir purchased a book by Todd Lammle and read it from cover to cover. During that time, he began working at Cisco and chose his profession as a networking instructor. He began training students, including his two brothers, for MCSE and CCNA certifications in 2004.
Encouraged by the positive experiences he gained as an instructor, Tahir began his CCIE Routing & Switching journey. He purchased the complete INE Routing & Switching program, and in October of 2010 achieved his goal and became CCIE #27270. Tahir just passed the CCIE Data Center lab on November 11th, 2013, in Dubai to earn his third CCIE certification.
Muhammad Tayyab started his CCIE Service Provider journey in November of 2010 and, following his brother Tahir, used INE's Service Provider program to learn the technology. With INE's rack rentals and many hours of practice, Tayyab earned his CCIE number, #37259, in 2012.
"Now it's my turn to continue following my brothers," said Zubair. "I started my CCIE Service Provider journey in November of 2012, and both of my brothers helped me a lot and guided me to get my CCIE number. I followed the complete INE Service Provider program, which included video training and rack rentals, and finally got my CCIE # 40011 July 29th, 2013!"
These brothers enjoy sharing their knowledge with others. Their friendly disposition and the way they have helped each other is truly inspiring. "We are just like a team, and INE helped us to reach our goals to pass the labs," Zubair said. "The workbooks were a really big asset and were useful in everyday work situations. Without the workbooks and video training, it would have been very tough to pass the lab. Thanks to INE for providing us with excellent study material for our exam preparations, and a very special thanks to Brian McGahan and his team for outstanding training and workbooks, which helped us to understand and troubleshoot complex technologies."
INE thanks the Munir brothers for sharing their unique story. Congratulations to all of you for achieving such great success!
---